Performance Brake RotorAce Armour Products are proud to be the Middle East Agents for StopTech, Bilstein & Eibach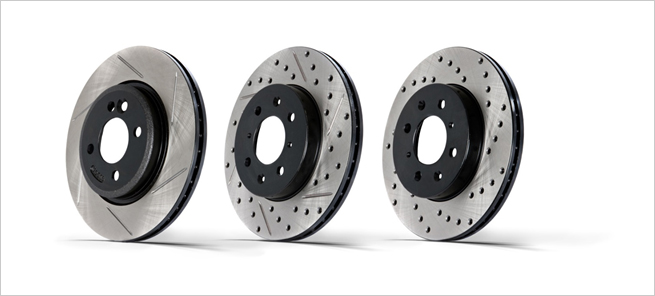 Ace Armour Products are proud to be the Middle East Agents for StopTech. StopTech is the high performance and racing brand from Centric Parts – a leading innovator of world class brake components and systems for production-based race cars and high performance vehicles on the street and track. We at Ace Armour are pleased to announce that StopTech now designs and manufactures a wide range of heavy duty brake components for military, armoured and other speciality vehicle applications.
Performance Brake Rotor
A brake rotor's primary function is to store and release thermal energy that is generated during the braking process. At first glance, two rotors from different manufacturers may appear to be identical, however, quality and performance cannot be determined by simply comparing the outside dimensions or aesthetics of the discs. Vane design, chemistry, metallurgy, casting methods and machining technique all contribute to the function of the disc once it is placed in service.
StopTech® has the engineering and R&D resources to test rotors on one of three Link brake dynamometers, on street and track vehicles, and in the laboratory. StopTech and Centric Premium brake rotors are designed, engineered, and built to offer significant braking advantages over OEM parts.
Why Our Brake Rotor
StopTech® recognizes that great brakes need to look as good as they perform. Performance wheels and tires are best complemented with StopTech® Slotted (prefix 126), Cross-Drilled (prefix 128) or Drilled+Slotted (prefix 127) Sport Rotors. StopTech® slotted, drilled and drilled+slotted brake rotors prevent glazing of the pads, add bite and improve wet and dry braking performance.
Engineered to look good behind the wheel and perform at the same time
StopTech® Sport Rotors look great behind custom wheels, improve the initial bite of the brake pads, and help wipe away the debris that forms between the pad and the disc. A set of StopTech® rear replacement Sport Rotors is a great way to match the aesthetics of a StopTech® Big Brake Kit.
E-Coated Finish
Most StopTech® Sport Rotors are finished with black e-coating on both sides of the hat, inside the cooling vanes, and on the outside edge. E-coating is a superior electro-statically applied finish designed to withstand 400 hours of salt water exposure without rusting. This is especially important on both mounting faces of the hat where it touches the hub flange and back face of the wheel. Any accumulation of rust in these area can lead to installed lateral run out issues.
Power Alloy Metallurgy
Power Alloy metallurgy is an exclusive feature of many StopTech® rotors. In specific vehicle applications, StopTech works with foundry partners to increase the molybdenum or carbon content of the castings, and to carefully control the cooling rate during production to reach targets for hardness and tensile strength.
Cooling Vane Design
Nearly all StopTech® 1-piece rotors have unique slot or hole patterns for the left and right sides of the vehicle. For these directional patterns, straight vane or pillar vane rotors are used to ensure that a drilled hole never touches a cooling vane.