Bilstein Armoured Suspension KitAce Armour Products are proud to be the Middle East Agents for StopTech, Bilstein & Eibach
In todays armoured vehicle market, armourers are faced with vehicle platforms of ever increasing complexity and demanding delivery lead-times. In recognition of this, ACE Armour Products has responded by providing a service that delivers Full Suspension Solution packages, a single point contact for all a customer's suspension needs in the Middle East and an inventory held in Dubai.
"Beware those that offer 'Motorsport Technology'
Bilstein have an enviable name in motorsport and we immediately identified that the armoured vehicle industry had a very different requirement to that of motorsport. Although motorsport is demanding, it is also short lived and serviced in well-equipped workshops by very well trained technicians. Armoured vehicle suspension should be 'fit and forget' and if service is required, it should be simple and only require basic tools. So starting with a blank sheet of paper we designed dampers (shock absorbers) with increased durability seals with additional debris protection, we included 'stone strike' protection to components located in vulnerable chassis areas. If the OEM components, such as spring isolators and bushes are durable enough for the armoured vehicle, we design our kit to work with them, as spares can then be easily sourced throughout the word. Having said that, there are times when the OEM component is just not durable enough for armoured applications, as in the case of some lower damper bushes, where failure frequently takes the vehicle out of service, we replace these in our designs with spherical steel joints, with additional debris protection. These are just a few examples of why our products not only outperform the competition dynamically but also in terms of service life.
Retro fitting BILSTEIN Armoured Suspension products to your vehicle fleets will not only reduce your total 'life costs' but also keep the vehicles where they should be, in service, protecting people. In basic terms armouring has added weight, but our kits are also perfectly suitable for vehicles that have increased weight for reasons other than armour – such as increased payload or heavy roof mounted equipment etc.We also have a range of suspension kits for vehicles that are used at GVW full time, as the OEM suspension was only designed with 'occasional' GVW usage in mind, however our 'GVW Kits' are design optimised for running at this weight full time.
Available Kits
Toyota Land Cruiser 200 series/Lexus 570 (B6) & (B7)
Toyota Land Cruiser 76 (B6)
Toyota Land Cruiser 78/79 (Low CoG)
Toyota Land Cruiser 78/79 B6 (High CoG)
Toyota Hilux 25/26 (B6)
Toyota Land Cruiser 100 non-AHC (B6) & B7
Toyota Land Cruiser 105 (B6)
Toyota Land Cruiser 150 Prado (B6)
Toyota Camry XV40 (B6)
Toyota Corolla ZZE122 (B6), ZZE122-142 (B6) & E170 11th Generation 2014 (B6)
Ford Expedition (B6)
Ford F550
Mercedes G Model
Land Rover Defender 110
Mitsubishi Pajero (B6)
Nissan Patrol MY12
GMC Suburban 1500 & 2500
Isuzu D-Max
Yukon Denali 1500 2014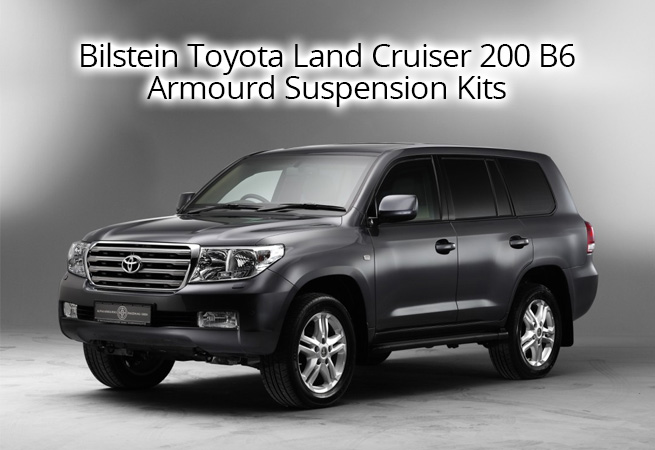 The Bilstein suspension kits have been designed and manufactured specifically for the use on an armoured version of the Land Cruiser 200-series & Lexus LX570, these kits are not made up of "heavy-duty" aftermarket parts. The assumption of both the general road conditions and ambient temperatures in the locations where these vehicles are likely to be deployed have been taken into account throughout development. Tuning of the suspension, ride and handling tests have been carried out on un-laden and fully-laden armoured vehicles with over-checks for evasive manoeuvre stability and light/moderate off-road capability. The kits come in two maximum weight options as standard the B6 4.8 tonne and the B7 5.8 tonne however Bilstein are happy to produce bespoke weights to suit customer's needs. The above kits also come with passive or active height dampers.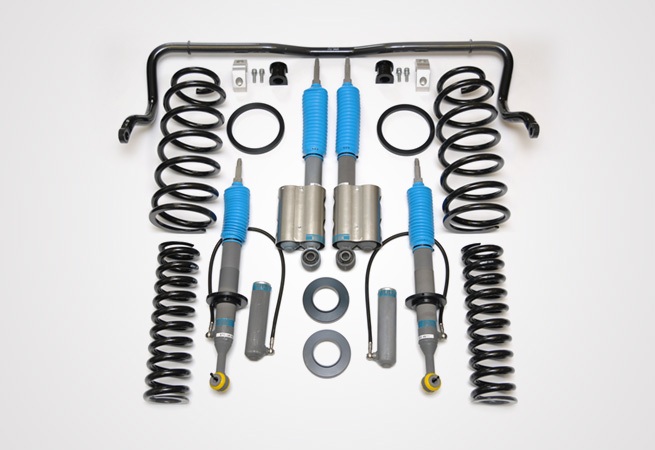 Each B6 TLC 200 Series/Lexus LX570 (4.8 Tonne) kit comes with the following parts.
| | |
| --- | --- |
| Pc's per kit | Contents of complete kit |
| 2 | Front damper with remote resevoir – Passive |
| 2 | Rear damper with resevoir – Passive |
| 2 | Front damper with remote res – Active Height |
| 2 | Rear damper with res – Active Height |
| 2 | Front spring adaptor – Active Height |
| 2 | Front spring – OEM End form |
| 2 | Rear spring |
| 2 | Rear spring adaptor |
| 1 | Rear anti roll bar assy – 32mm |
| 2 | ARB Bracket |
| 2 | ARB Bush |
| 4 of each | M10 Bolts/flat washers/spring washers |